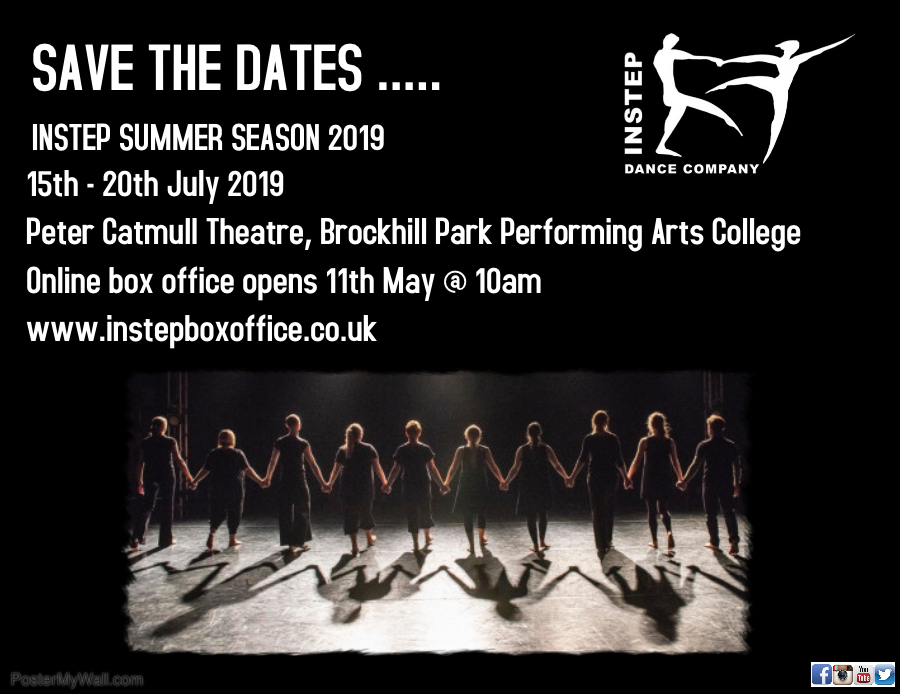 We are really pleased and proud to announce the Instep Summer Season 2019.
You can book your tickets for the following performances from the 11th May @ 10AM online www.instepboxoffice.co.uk,All performances will be held at Peter Catmull Theatre, Brockhill Park Performing Arts College on the following dates.
Here's the  "What's on in each show" guide to help you plan your ticket purchases. Tickets will be limited to 4 per purchase in the first week to maximise the opportunity for everyone to get tickets.
You are advised not to delay in organising your tickets as we expect a high demand
What's on each show
First Steps: Tues 16th & Wed 17th July
Infant 1 & 2, Junior 1 & 2, Workshop, Impact 2, EKA
ONLY COMPANY 1 ( with a selection of their work ) and company 4
Boys project
Breakin
Issans
GALA -  Thurs 18th July
Mayas, Issans, Vivekamayas, Boomerang, Company 1,2, 3, 4,( Company 2 &3 will be dancing the pieces they made in the Autumn )
Boys project, Breakin, EKA
Full – Summer Season Showcase – Fri 19th & Sat 20th July
Junior 1 & 2, Impact 2, EKA, Workshop, All companies,
( Company 2 and  3 will be dancing their new works ) Mayas, Issans, Breakin, Impact 1, Impact 2, Boys project, Boomerang , EKA
Instep Shows 2019: Information to parents
For information about Company classes please CLICK HERE
For information about Infant 1 and Infant 2 please CLICK HERE
For information about Junior 1, Junior 2, and Impact 2 please CLICK HERE
For information about Workshop classes please CLICK HERE 
For information about EKA please CLICK HERE
For information about the show please CLICK HERE